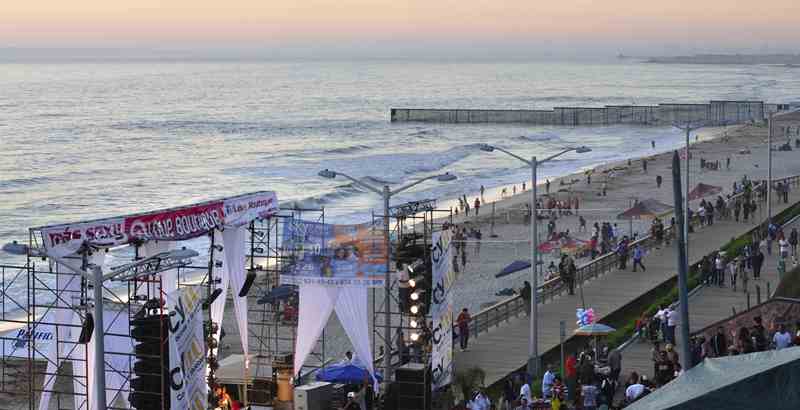 Renting A Car In Tijuana
Tijuana Car Rental Guide for Tourists and Business Travelers
Whether visiting for work or pleasure, getting around a bustling city on the Mexican border can be challenging. Renting a car is ideal for those looking to see Tijuana at their leisure. From selecting the best car rental company to avoiding fees and surcharges, we'll cover everything you want to learn about renting a car in Tijuana in this guide.
Choosing the Right Car Rental Company in Tijuana
Search first to see if the rental company is well-known and has received favorable feedback from past clients. Asking friends who rent cars or searching online makes it simple to find this information.
If you're taking your kids on the trip, ask if they provide extra services like GPS navigation systems and child seats. Make sure the rental company offers a range of vehicles to meet your requirements, whether you're looking for a luxury automobile with plenty of room for passengers and luggage or a small, economical car.
To guarantee you receive the most outstanding value while preserving quality and safety, compare prices among car rental companies. Finally, check for additional costs related to the company's rental service, such as insurance or mileage fees.
To compare prices or book a rental vehicle, see more car rental companies in Tijuana.
Car Rental Options in Tijuana
You'll be happy that several affordable vehicle rental options are available while arriving in Tijuana, Mexico, through the airport. Avis, Alamo, Enterprise, National, Mex, Hertz, Budget, Europcar, and Sixt are just a few of the many vehicle rental businesses at the airport.
Each company provides a variety of automobiles to suit varied needs and tastes in terms of price points. You may visit the onsite counters immediately or browse their collection online after you land.
When comparing rates, keep things like fuel costs, insurance, and mileage restrictions in mind. A reservation in advance is preferable, particularly when traveling around special holidays. Before making a reservation, thoroughly read the terms and conditions because many companies have different pricing.
Renting a car at the Tijuana Airport is best to reach locations within the city's heart or further into surrounding regions of Mexico without relying on travel companies or public transport timetables.
Before setting out on your journey in Tijuana's trendy and festive town, fill out any papers the rental business may want. You can start your trip once you have chosen your desired rental company and vehicle type.
You can be sure that the costs will increase the more amenities and services you can utilize while driving. The cheapest vehicle is the Economy automobile, which costs $7 daily. The Compact starts at $10, Intermediate starts at $15, Standard starts at $18, Full-size starts at $18, and Minivan vehicle starts at $50.
Driving Directions to Tijuana Airport
A 20-minute trip from the city center will get you to the airport, only about 9 kilometers away. Continue driving until you reach Aeropuerto/Tecate - Tijuana/Via de la Juventud Ote to downtown Tijuana. Go from Carr Transpeninsular/Boulevard Mexico 1 to Tijuana via Cuauhtémoc Nte afterward. Take the P.O. del Centenario, Boulevard. from there. You have finally arrived in Zona Centro, the city's central area, after traveling through Independence and P.o. de los Héroes.
Consider that you need more help with driving directions or traveling beyond Tijuana. In that situation, GPS systems are readily accessible for rental while renting a car from one of the several rental firms situated at the airport. Driving is easy and stress-free from the Tijuana Airport.
Benefits of Renting a Car in Tijuana
Renting a car allows you to go freely and flexibly. You can rely on something besides time-consuming, expensive public transportation or taxis if you can rent a car.
Travelers who rent a car can access locations inside and outside of cities that might be more difficult or expensive to get via other modes of transportation. There are several side streets off the main avenue, La Revolución or La Revo, where you may see modern art galleries and hip eateries.
Convenience is a significant advantage of car rental. You may pick up and return your rental car at the airport. Because of this, you can travel to your destination or return to the airport without making additional transportation arrangements.
Being able to travel farther and faster is another benefit. You are allowed by the itineraries or routes that tour buses use when you have a rental car. Instead, you can plan your trip according to your interests and move leisurely.
Additionally, renting a car lets you and your traveling companions from strangers share a vehicle. It eliminates the need to navigate crowded bus or train stops while hauling big suitcases.
What are the requirements for foreigners to rent a car in Tijuana?
Before renting a car in Mexico, foreigners should familiarize themselves with general traffic laws. This includes traffic laws, parking restrictions, and road signs that may differ from those in their home country.
Some rental companies have a 21-year-old as the lowest age requirement and a 75-year-old age limit. Several providers may also tack on an extra daily fee for young drivers. You must show a valid ID, such as a passport. Your identity will be verified, and your travel will be authenticated using this.
Moreover, a current driver's license is required. Check to see if your document is recent and original. In addition, you must present a current driver's license from your home nation if you are an international driver. An international driver's permit may be necessary, or a notarized English translation may be permitted if the license is not in English.
Find out more about getting an International Drivers Permit to drive in Mexico.
Please ensure you are renting with a credit card in your name. You must possess a credit card with sufficient available credit to cover the deposit and any potential damages that might occur throughout the rental.
What are the payment options for foreigners renting a car in Tijuana?
When renting a car in Tijuana, foreigners have various payment choices. The most common payment option in Mexico is credit cards. All car rental companies accept them.
Debit cards and cash may not be accepted or may incur additional charges. It is crucial to remember this. Check the conditions that the car rental firms have for cash or a debit card.
Another option for foreigners to make payments is using a credit card, including American Express, MasterCard, and Visa. Before your vacation, load enough money onto these cards for payment.
You must also produce a passport and a credit card in your name with available credit. The passport and the document's back must bear the renter's signature. Additionally, suppose the renter has completed an online transaction. In that case, the name and number written on the card must coincide with those details.
When paying with any card, the rental company will place a hold on your account equivalent to the anticipated rental amount plus any additional fees or taxes. This hold might be lifted after you return the car but only briefly.
Finally, review each car rental company's payment options and policies before making your reservation.
Tips for Avoiding Fees or Charges When Renting a Car in Tijuana
Knowing the typical rental car expenses will help you avoid all the extra charges and hidden fees. The more you know the extras that rental businesses want to include in the price, the simpler it will be to make plans to avoid them. Insightful advice is provided below:
Before signing, it is essential to carefully read the rental agreement to know all the fees and better handle them.
As late returns can incur significant fines, return the car by the due date. It may also result in additional fees if you present the vehicle with less fuel than when you first had it.
Before departing from the rental office, give the car a full inspection and, if required, snap pictures. So, upon return, you won't unintentionally be charged for any pre-existing damages.
Only let people drive the car if identified as an authorized driver on the car rental agreement. In the alternative, using unlicensed drivers risks invalidating insurance and resulting in extra costs.
Analyze the vehicle for damage. See through the automobile carefully before driving it off the lot to prevent paying for damage you didn't cause. With you present, the clerk usually does a cursory vehicle inspection. Still, this inspection is frequently only a formality. A more thorough review is beneficial.
Get insurance protection instead of relying exclusively on the rental company's offers. In the event of mishaps or damage while operating your car, this could help you save money.
Frequently Asked Questions for Foreigners Renting a Car in Tijuana
Q: Is there a penalty if I want to return my car early?
A: You will only pay for the days you had the vehicle; some rental agencies do not charge clients more for returning a car early.
Q: What is their pet policy?
A: In the majority of rental cars, pets are welcome. To avoid paying cleaning/detailing costs, renters must keep pets in crates and return their vehicles clean and free of pet hair.
Q: What to do if my rental car breaks down in Tijuana?
A: A safe location away from traffic should be reached if your rental automobile experiences a technical issue and is no longer drivable. The rental company's roadside assistance will aid you in the towing process after you dial their number.
Q: Can I Extend My Car Rental?
A: Yes! Call your car rental provider to get started and ensure your rental is appropriately extended.
What to do when driving as a foreigner for the first time?
Driving in another country can be intimidating, especially if you're not used to driving outside your country. If you follow simple safety rules and are organized, it might be an experience.
Have all the necessary papers ready before you set off on your journey. Your rental car agreement, driver's license, and international driving permission.
By researching ahead or seeking guidance from locals, you will be familiar with the driving rules of the road. Speed limits, parking restrictions, and traffic signs should all be carefully observed because they might need to be more familiar to you.
When driving in Tijuana, remember that pedestrians have the right of way at striped crosswalks. Notably, turning right at red lights is prohibited unless a green indicator shows otherwise.
Consider utilizing GPS or downloading maps beforehand while staying mindful of the environment. Additionally, constantly practice defensive driving and drive while paying attention.
What are the parking and traffic regulations?
Awareness of parking and traffic laws is critical when operating a rental car in Tijuana. Before getting on the road, drivers renting a car in Tijuana must know all applicable local traffic laws and ordinances. Mexico has stringent parking regulations, and infractions can result in high fines or towing.
For regular-sized cars, parking spaces are often delineated with white lines. In contrast, places for disabled vehicles are outlined with yellow stripes. If there are any signs indicating prohibited parking or restricted locations, you must pay close attention to them.
Following stated speed limits is one of the road rules in Tijuana. These limits are typically 80 km/h on open roads, 40 km/h within city limits, and 100–110 km/h on freeways and expressways. Drivers should also utilize child safety seats and seat belts when driving when children are present.
Tijuana offers a diverse selection of parking facilities, catering to both Tijuana Airport and various locations within the city. See more about parking in Tijuana.
What to do if you're involved in a traffic accident?
Being in a car accident is a situation that could be upsetting. Maintain your calm and behave responsibly in this situation. Securing everyone involved is the first action to take. It is safe to do so when receiving any required medical care before phoning for assistance.
After ensuring everyone is secure, trade contact information, name, license plate number, insurance information, and driver's license number with the other party. List any witnesse/s to the incident that happened for your consumption.
Take pictures of any accident-related damage from several angles for your insurance company's records.
After ensuring everyone's safety and exchanging information, notify your car rental provider immediately. They will recommend the following actions per their policies.
Consider a scenario where the accident results in no injuries or significant losses. Both parties may then complete a formal police report regarding what transpired during this period at the closest police station.
What to do if the traffic police stop you?
Imagine being pulled over by traffic officers while traveling through Tijuana. Stay calm in that situation and follow their instructions. Turn the engine off and park on the side of the road. Always keep your actions legal.
The police officer will likely ask for your driver's license, car registration papers, and evidence of insurance. Place these documents in an easily accessible location in your automobile to quickly retrieve them in an emergency.
Please be courteous and respectful of the police, even if you don't understand what they are saying. If there is a language barrier, try communicating using simple hand gestures or phrases.
The wisest course of action is to abide by the law of the road, drive cautiously, and act normally to avoid being pulled over in the first place. You will likely be stopped with cause. Make use of the turn signals.
What are the transport alternatives to renting a car in Tijuana?
Other solutions are available, though a rental car is the most practical. This list includes options for public transportation.
A well-known way to get to or from downtown Tijuana is with a city or minibus. Consider concurrently using Tijuana Station and Garca Station, the two main train stations. There are frequent bus and train services, which are inexpensive all day.
With less than two million residents, the city has a sizable metro population. You may explore Tijuana's unique art while out for a morning stroll. Walking offers a distinctive perspective on the city's architecture, culture, and history.
Your mode of transportation will ultimately depend on your preferences and requirements while in Tijuana. Make all your options open before choosing the best one for you.
Discover the various transportation alternatives including bus, train, and taxi transports in Tijuana.
What are the must-see attractions I can visit using a rental car in Tijuana?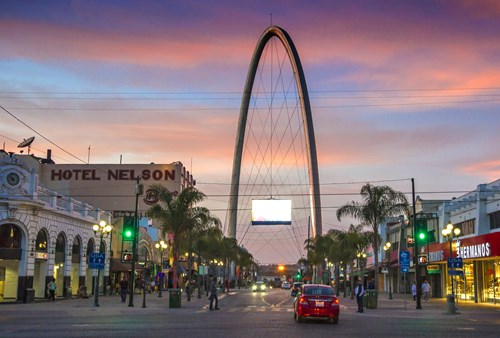 Generally speaking, the ideal seasons to visit are during the summer, June to October, when it is pleasant and dry. As it is a large metropolis, Tijuana is a year-round vacation spot.
Avenida Revolución, also known as La Revo, is the well-known primary tourist thoroughfare and the center of Tijuana. There are plenty of taverns, eateries, and gift shops along its length, including Caesar's, where Caesar Cardini allegedly created the Caesar salad in 1924 and still serves it at the table today.
Mercado Hidalgo, the city's vibrant traditional market, can be found in the Zona Ro, a few kilometers to the east. It also houses upscale eateries, nightclubs, contemporary structures, and other amenities.
Additionally, this area is home to the Centro Cultural Tijuana (CECUT), which has theaters, art exhibits, and an IMAX theater called La Bola.
Additionally, it has a museum that chronicles the history of Baja California, the Museo de las Californias. First-time tourists can learn much about a city by taking a guided tour; we suggest the Tijuana Walking Tour, particularly the taco excursions.
The most incredible place to spend a vacation by the water is in Tijuana's beachside neighborhood, Playas de Tijuana. The rest of Tijuana's attractions are also close by. While in the town, you can take advantage of sandy beaches and water activities.
Unveiling a rich array of attractions and experiences waiting to be discovered. Explore the abundant tourism offerings available in Tijuana.
What types of accommodation are available in Tijuana?
Tijuana offers a variety of lodging options for tourists and business travelers of all price ranges and tastes. Whether they prefer five-star resorts or more budget-friendly inns, you may find lodging in the city.
For simple lodgings like hostels or guesthouses, prices start at about $28 per night. Up to $150 can be spent per night in more opulent 4-star hotels.
People who want to stay in the Tijuana center but want to save a lot on a hotel can choose from various mid-range options with prices starting from $50 to $90 per night. Airbnb is also well-liked. The rate varies based on location and services, starting at around $20.
To minimize any last-minute headaches, reserve your hotel in advance.
See more of Tijuana's finest accommodations, showcasing a variety of exceptional choices that promise a delightful and satisfying experience for your stay.
UNBEATABLE VALUE CAR RENTAL
FREE
Amendments,
FREE
Cancellations,
NO
card fees!

airport_shuttle Need Airport Transfers?
Useful Information about Tijuana Airport