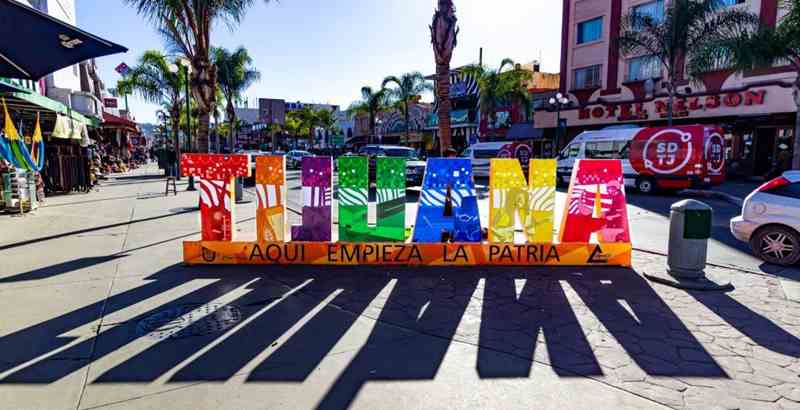 Tijuana Tourist Attractions
Tijuana, Mexico is a city that sits right at the border to the United States. The city was established as an urban settlement in 1889 and it saw its future in tourism from the very beginning. Over the many decades since it has been well-known for being a gambling and drinking destination, mostly for Americans, but these days it is so much more and visitors come from all over the world to experience the Mexican flair combined with world-class cuisine, exciting local art, wine and beaches. The city is less than an hour's drive south of San Diego, USA.
When visiting Tijuana it is important to understand that some areas are safer than others and that it is always a good idea to carry your valuables in a safe place and way. Vendors will do their best to get as much money out of people as they possibly can so it is recommended to not be afraid to haggle and to know how much you want to pay for an item and to be aware of the method of trying to sell several items at a combined price that will also often be far above the value.
When it comes to moving around in Tijuana and the Baja California region it is wise to follow recommendations. Some of the areas are less safe than others and it might be risky to travel to or through those zones. Public transportation is available, as are taxis as well as Uber, but be mindful, smart and prioritize safety at all times. When taking a taxi or Uber make sure to negotiate the price for the journey beforehand. Taxis are generally the safest way of traveling within Tijuana.
We have listed a few of the attractions available when visiting Tijuana, including a wine tour from getyourguide.com.
Beaches – Playas de Tijuana is a 4 km/2.5 mi long stretch of beach beginning at the border fence in the north all the way to Puente la Joya. It neighbors residential areas and families often wander along the raised promenade, Malecón, on weekends. The sand on the beach is kept clean and the promenade offers the opportunity to enjoy some local specialties such as octopus with rice, ceviche, fish tacos, and shrimp with a spicy tomato and lemon sauce called camarones cucaracha. However, there are other beaches considered more beautiful and popular a short drive south from Tijuana, including Rosarito Beach where famous icons of the Golden Age of Hollywood, like Ava Gardner, Orson Welles, Rita Hayworth, Spencer Tracy and Katherine Hepburn, would go to get away.
Plaza Río Tijuana – is a large American-style shopping mall located in Zona Rio. It offers more than 100 branches of well-known American and Mexican brands, a Soriana hypermarket as well as two cinema complexes and several eateries of various cuisines. Plaza Rio Tijuana is located less than 2 km/ just over 1 mi from downtown Tijuana. http://www.plazariotijuana.com.mx/
Tijuana Cultural Center (CECUT) – The Tijuana Cultural Center is located just next to the Plaza Rio pedestrian mall in Zona Rio, east of downtown Tijuana. The building complex was designed by the eminent architect Pedro Ramirez Vazquez, and especially "La Bola", the spherical structure that houses the only IMAX theater in Tijuana. The IMAX theater premieres several high-resolution movies each year.
The central building at the center houses a permanent exhibition about California, charting the human and natural history of the California peninsula of which Tijuana is a part.
Avenida Revolución - Avenida Revolución is Tijuana's tourist center located in Zona Centro, the historic downtown of the city. It was the first road in Tijuana to be paved and it has experienced many changes, including its name. This is where the Caesar Salad was invented by Caesar Cardini. The long Avenida is the home to many popular attractions, shops, restaurants, cafés, casinos and hotels. The Avenida is less touristy and less loud than it used to be, and it is much more modern than it previously was, but it is still wise to be mindful. Just remember to also enjoy the visit. The famous tourist picture of the donkey painted as a zebra is still possible.
Parque Morelos – Morelos Park, as it is called in English, is an ecological reserve with extensive green areas, a sanctuary/zoo, gardens, a large lake and more. Some of the attractions here include an Aquatic Zone, GoKarts, Slides, Zip-line, a Skateboard Park to mention a few. There is also a water zone with swimming pools full of fun things to do, including the water slides, There are several gardens in the park including the Eagle Garden, Grandparents Garden, Desert Garden and Empress Garden, and more, and there is also a concert hall, Palenque de Tijuana, where the performers are in a circle at the bottom with the seats rising around it. The concert hall is located in El Trompo, the science museum, and it has capacity for 5,000 people. Parque Morelos is located approximately 12 km/7.5 mi from Zona Centro.
El Trompo – El Trompo is a museum complex dedicated to spreading scientific knowledge in a fun way especially to kids and adolescents. It is located in Parque Morelos. The museum was built in 2008 and inaugurated on December 9th the same year. It was designed by the architect Francisco López Guerra. The museum's approach is based on the theories of free and meaningful learning and it has 6 interactive rooms, 1 projection room, a multi-purpose room as well as the concert hall Palenque de Tijuana. There are also varying temporary exhibitions at the museum.
Wine Route: Guadalupe Valley, Baja California
Guadalupe Valley in Tijuana, Baja California, Mexico, is the nation's premier wine region, producing approximately 90% of the country's wine production. Valle de Guadalupe has more than 100 wineries and this tour, or wine route, will allow you to taste some of the best of Mexican wines in the beautiful landscapes of the vineyards.
During the wine route participants will get to visit and tour three wine houses at Puerto Nuevo where they get to enjoy wines accompanied by hand-made snacks and excellent cuisine. The dynamic expert tour guide will share about the process of making good wine and the innovative culture it comes with.
UNBEATABLE VALUE CAR RENTAL
FREE
Amendments,
FREE
Cancellations,
NO
card fees!

airport_shuttle Need Airport Transfers?
Useful Information about Tijuana Airport